At Bombora, we specialize in designing and building unique, one off pieces of solid timber furniture. We have developed an ordering system that simplifies the design process whilst maintaining that attention to detail that ensures you get exactly what you want even if you live on the other side of our magnificent country.
Quote
First things first is providing you with a quote. You can either email your own sketches, images for inspiration or a design brief such as dimensions and functional requirements from which we will provide the costings. For those local to the Surf Coast and the Geelong areas, we also offer an in home quoting service that is great for those who are not quite sure what their space needs or for those clients wanting inbuilt cabinetry.
Deposit
To place your piece on the schedule, we require a 50% deposit. The invoice will be emailed to you and can be paid via EFT, cheque or cash. We also accept credit card payments but these incur a 1.75% surcharge.
Order form questionnaire
The devil is in the details but it is this attention to these little things that results in a stunning piece of furniture that will fit your home perfectly and be that forever piece. We get you to fill out an online questionnaire to get as many details as possible before designing your piece. For dining tables there is not so many things to conciser for the design but for something like a TV cabinet it is important to consider such aspects as
the size of your technology
storage of DVD's, VHS or CD's
does your technology require venting
do we need to avoid power points or the skirting boards for the design of the back of the unit
where do cable holes need to go
...the list goes on. The other section of the order form establishes your preferences for timber such as the type, tone, recycled or new and levels of character. On our website we have a section demonstrating our classification levels for levels of tone variance as well as character level. You can find this in our customer service section here.
Design Drawings
Using the information from the order form, our head designer Luke then generates a drawing and sends through images of several different angles. You are then able to provide your feedback and change anything that you require. If you have commissioned an inbuilt piece such as a bookcase, shelving or a timber bench top, we may need to organise a time to visit your home to get precise measurements to ensure that the piece fits perfectly as most walls are not straight!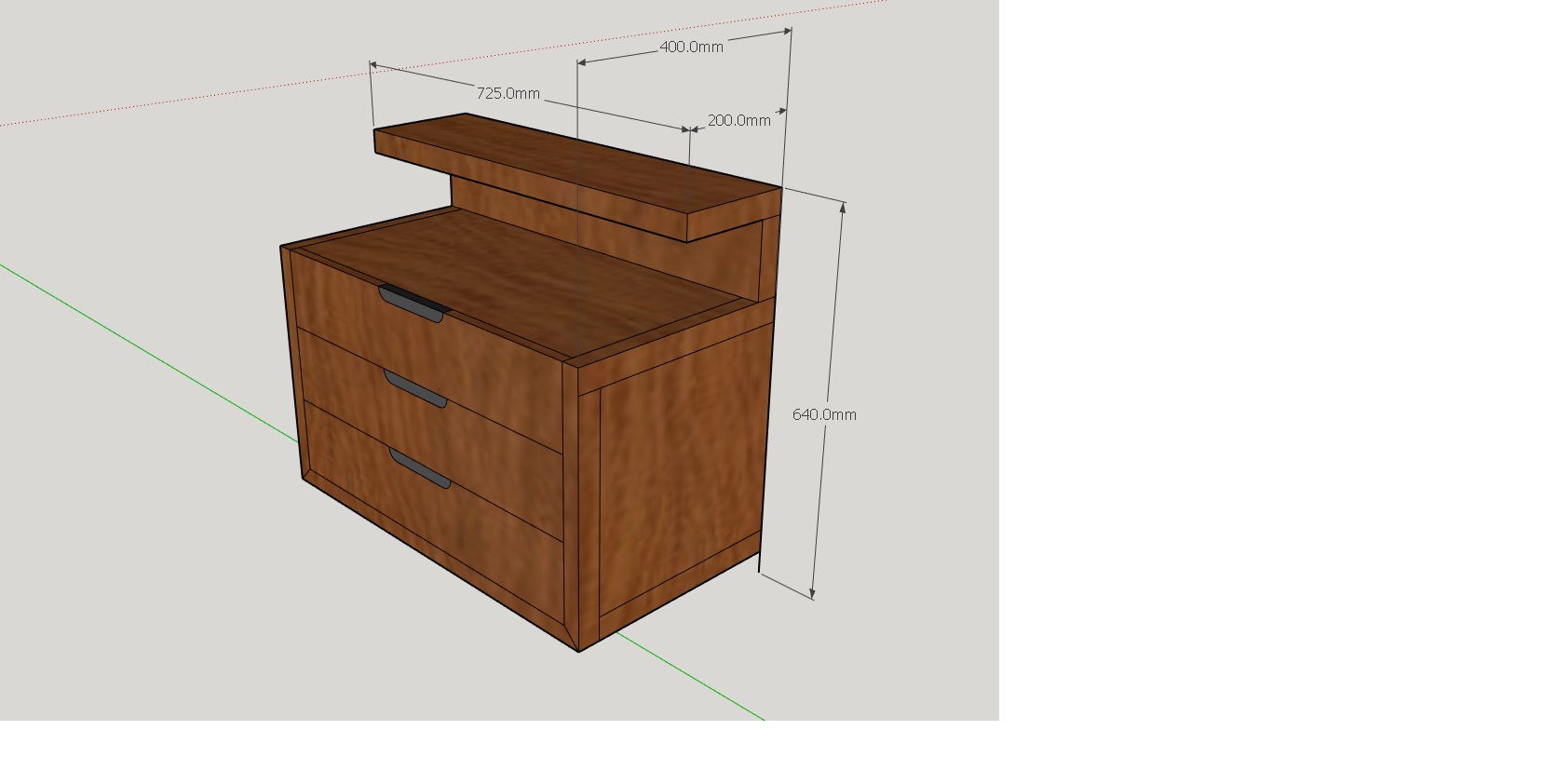 Timber choice
If you have requested to choose your timber, we arrange a time for you to visit the workshop to pick out the pieces you want. If you live too far away, we can choose the timber as per your description and send you images for your approval.
Construction
Now comes the fun part! Pieces take from 1-2 weeks to construct depending on the complexity and the size. We allow for plenty of time for glues to dry and finishes to cure to ensure perfection! The most time consuming aspects of each piece is the finishing which involves many hours of sanding, application of wax / oil and buffing.
Balance invoice
Once your piece is complete, we send you through a little sneak piece as well as the invoice for the remaining balance to be paid prior to delivery.
Delivery and installation
Depending on your particular piece, it will either be delivered by Dean and the lads from Surf Coast Movers or other furniture movers if interstate. In the case of in built items, we complete the construction onsite to ensure that the piece is flush with the surrounding structures.
Maintenance instructions
On our website, in the customer service section found here, are several reference sections that explain and demonstrate how to care for the finish of your piece and how to adjust the hinges on doors which can become out of alignment over time.
Please contact us here if you wish to inquire about Bombora Custom Furniture designing and building your dream furniture.